Products
Shop Online

Product Details
Taste of Tonga Premium Coconut Oil 400g
100% Extra Virgin Coconut Oil packaged in a reusable spouted bag that will stand up. The allows ease of use at various temperatures where the coconut oil could be between liquid and solid state.
The coconuts used to make this oil are grown in Vava'u using traditional organic methods. The extra virgin coconut oil is cold pressed and made with absolutely no heat added.
Extra virgin coconut oil consists of Lauric acid which is a key component of both coconut oil and human breast milk.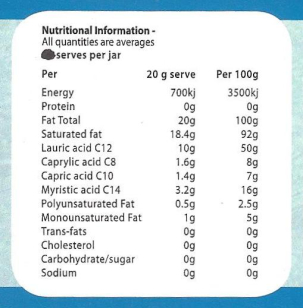 WAS $14.00 NZD NOW $10.00 NZD - Sold Out
(all pricing is in NZ Dollars and inclusive of GST)
Code: TOTVCO400

Please wait...