Products
Shop Online

Shop Online
Nonu
Nonu juice is derived from the fruit of the Morind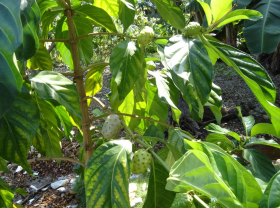 a citrifolia tree. It is a small, flowering shrub native to the Pacific islands, Polynesia, Asia, and Australia. It grows to a height of up to 10 feet high, and the leaves are dark green and oval shaped. The flower heads grow to become mature yellow fruit that have a strong odour.
The fruit, leaves, flowers, stems, bark, and roots of the Nonu (M. citrifolia) tree are still widely used throughout Polynesia by traditional healers and there is enough evidence to suggest that the mixture of essential vitamins, minerals, enzymes and trace elements is a great dietary supplement, especially with the average western diet today increasingly consisting of processed, fast and easy to prepare foodstuffs.
Read More
Nonu is also a powerful antioxidant helping to eliminate from the body toxins and free radicals that interfere with normal cell function. Whilst no M. citrifolia products are licensed or registered as medicines or therapies Nonu is today still used regularly throughout the Pacific, just as traditional healers hundreds of years ago throughout Polynesia used Nonu to treat conditions such as;
Digestive system complications like stomach ulcers and diarrhoea
Bones and joints problems like arthritis, broken bones
Internal disorders like high blood pressure, menstruation disorders and cramps
Skin problems like wounds and boils
Eyes, mouth and throat problems like eye infections, toothache, and sore throats
Chest problems like coughing and asthma
Help slow age-related changes in the body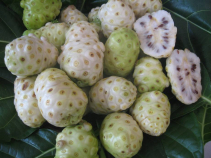 Pure Nonu Juice is produced organically with no additives.
Fully mature fruits are washed and packed into airtight containers and then these containers are exposed to full sunlight for two months. This encourages fermentation and production of Pure Nonu Juice. The juice is extracted and pasteurized at a high heat followed by rapid cold dip to prevent destruction of the beneficial enzymes and nutrients. The Pure Nonu Juice is then bottled and ready for use.